We can not thank you enough for sharing your personal success stories with us and please keep them coming!!! This is 100% what FUELS our community and it is BEYOND inspiring what is going on out there as you commit to your daily 12 minute workouts and getting in amazing shape. THANK YOU!!! Chelsea & Mel

Join 100's of participants worldwide by subscribing to receive your 12 Minute HIITit.ca Video Workouts sent DAILY to your email inbox! So easy to follow, results guaranteed! www.HIITIt.ca
..... 
"I am coming up to my 3 year anniversary of doing HIITit with you ladies! I started a few years after having my third baby and I was in desperate need of getting back to exercise and taking some time to care for myself. I love how doable these workouts are, only 12 minuets, I don't have to leave the house, and I can get them done while the kids are still sleeping in the morning. They have turned into part of my daily routine! They make me sweat, get the heart going, and have given me so much strength and confidence. I'm in the best shape of my life and I owe a huge part of that to HIITit. I love how motivating it is to be part of the HIIT it community and to cheer each other on in this fitness journey! Thanks so much for all you do!"
Kari Woods
..... 

"I wanted to send a quick note to say THANK YOU!! Your workouts have completely transformed me - physically and mentally. They are absolutely perfect - tough, quick and always different. For as long as I can remember I have struggled with body image issues...never feeling comfortable in my own skin, always wanting to change what I see - but since I've been doing the HIIT IT workouts I am gaining more and more self confidence. I feel strong and healthy - and I'm proud to say that on our trip to Mexico I wore a bikini without covering up. I swam with my girls and walked on the beach.....and wasn't embarrassed at all. This is HUGE in my books!!! This year I turn 40 and am totally looking forward to it. My 20 year old self couldn't have done reptile push-ups and would have whined thru 12 minutes of burpees - but my almost 40 year old body pushes thru and LOVES it!! So thanks gals, what you do is truly amazing and I wish you nothing but continued success!!"
Alicia Chrest
..... 

"I started the 12 minute workouts when I was three months postpartum from my second child because I was ready to get back into shape and get stronger. I had no idea at the time how much 12 minutes could change my life. The 'after' pictures were taken 6 months later. I have lost 20 pounds, I'm the strongest that I've ever been and feel incredibly healthy, both mentally and physically. I never miss a day and it's one of the first things that I do when I wake up in the morning. It has become part of my daily routine. By starting my morning off with this workout, it gives me more energy for the day, I feel great after and I look forward to it. My life has been changed by Melanie and Chelsea. Thank you so much from the bottom of my heart. The results in the picture make me so happy, but I'm even happier by how I feel on the inside. Thank you!!"
Christina
..... 

"Hey Chelsea and Mel!! I just had an anniversary too - this month marks 2 years since I started working out with you. I was 6 months post partum and wanted to transform my body and health. Never had been able to stick to a workout protocol in my life. Well, yours has done it for me and completely changed my body composition AND my overall health and wellness!!! Most days I still don't recognize that fit chick in the mirror. THANK YOU for this gift of fitness that I can fit into my life no matter what!!! Here's to staying strong and healthy! Xoxo"
Angela Schjodt
..... 

Dr. Jody Cox
http://www.newhopechiropractic.ca/book
..... 

"Huge thank you to you guys for such awesome videos. I didn't think I was going to be able to get my second baby weight off."
Kristen Gill
..... 

"After having my fourth baby I felt tired and run down. I chalked it up to four kids, low iron and working full time. I started HIITit when I was 4.5 months postpartum. My goal was 2-3 times a week. I accomplished this goal most weeks, as I started feeling better about myself I started doing the workouts more often, and was noticing a huge change in my mental health and physical health. My hockey teammates started noticing my speed and energy. In January I committed to working out every single day....it literally changed my life! I am stronger, happier and more confident because of these workouts. My transformation was simple....commitment. I am an everyday person juggling many things but I made 12 minutes a day my priority. My physical changes were noticed by the ladies in the locker room and the greatest compliment was the statement "What do you do for exercise, because I want to look like you!". It is possible and these workouts make it possible for busy moms like myself to achieve realistic fitness goals. I love this program and what it represents for everyday women struggling to have balance."
Jamie Duteil
..... 

"Thanks for creating such an amazing product. It's changed my life for the better and made me stronger than I ever thought I could be. You guys are the best! I've passed your site on to SO many people over the past year. I hope you know that their subscriptions are my way of saying thank you."
Krista Gerard
..... 

"Hi. I've been meaning to do this for awhile but I finally am making the time to sit down and do this. I have been doing your HIITit program now for over 6 months and it has been life changing. I've spent most of my life in a struggle/balance with weight/self-esteem. Struggling heavily with anorexia till my mid 20's it was a long road to recovery with the last 10 years filled with growth towards healthy living. Exercise always had a burn calories/lose weight ideal in my mind so throughout the past years I haven't exercised too much other than hitting the gym occasionally and training for some runs. Then my friend told me about you guys...and it has changed my life! I have no need to lose weight but I needed something...and you guys are it. I've slowly learned throughout the years that it's not about weight (at least for me), it's about strength. And I've gained so much, not only in physical strength but in determination:) I am hitting a "monument" birthday tomorrow and I can say that after 20 years I am in the best "space" (physically, emotionally, spiritually) I have ever ever been in...and want you to know that you have a part in that:) Thanks for getting me up early in the morning to make myself better!"
Vivian Shepherd
..... 

"After having my fourth baby I felt tired and run down. I chalked it up to four kids, low iron and working full time. I started HIITit when I was 4.5 months postpartum. My goal was 2-3 times a week. I accomplished this goal most weeks, as I started feeling better about myself I started doing the workouts more often, and was noticing a huge change in my mental health and physical health. My hockey teammates started noticing my speed and energy. In January I committed to working out every single day....it literally changed my life! I am stronger, happier and more confident because of these workouts. My transformation was simple....commitment. I am an everyday person juggling many things but I made 12 minutes a day my priority. My physical changes were noticed by the ladies in the locker room and the greatest compliment was the statement "What do you do for exercise, because I want to look like you!". It is possible and these workouts make it possible for busy moms like myself to achieve realistic fitness goals. I love this program and what it represents for everyday women struggling to have balance."
Christie Willms
..... 

"I'm so grateful for your program!! I'm still loving it after almost a year!"
Ashley Schuster
..... 

"I love the program!! Find it fits into my busy life and I can't believe how much I sweat in 12 minutes. Unbelievable."
Nicola Lisus
..... 

"I have never had muscles like this before, honestly!! I love your workouts!!"
Andrea Henderson
"I started out working out with Chelsea and Mel from the very beginning of HIITit.ca, and from day 1 was hooked! It is quick, challenging and always fun with a great variety of exercises every workout. With a demanding schedule I would find going to the gym and getting workouts in a challenge however with HIITit I can always squeeze in a 12 minute workout either early morning or at the end of a busy day. It is so convenient, you can do this program anywhere and with no equipment needed which makes it so flexible. Whether you are home, travelling, or at kids activities, etc. you can get a work out done. Chelsea and Mel are so positive and inspiring that the program has made me stronger, healthier and a more confident person all around. Chelsea and Mel have done an amazing job and I look forward to working out and being apart of the HIIT community for a long time to come. Thanks again ladies!!"
Christa Lozinski
..... 

..... 

"I am a terrible exercise person. Somehow your workouts have made me go everyday for the last two months!!!!! I love them! And I love the support from everyone else on the Facebook page!!"
Laurenne Kohle
..... 

"I think my favourite part of these workouts is that no matter what time of the day it is, you just click "play" and you just do it! You don't have to think about it, you don't have to come up with a plan, you don't have to time yourself, you just do what ever Mel or Chelsea say to do, push yourself, and BOOM you've done a workout that you know is awesome, that you know will give you a burn to last atleast another day if not longer! No gym membership has ever given me all that! It's so simple really...thanks girls!"
Stephanie Wiebe
..... 

"Hey Chelsea and Mel! I just did something i have never been able to do before. It may not seem like much to some but I just managed to run a whole 6.5 km with my double stroller loaded and my dog without stopping. The greatest part was I felt like I could just keep going even. I haven't gone for an actual run in probably 10-11 months either. I want to give full credit to you ladies for creating these 12 minutes a day and for all the encouragement. It's crazy how strong you become with just 12 minutes!!! So thank you, thank you!! Feeling awesome."
Amanda Arends
..... 

"I absolutely LOVE doing your workouts!! I have never been able to motivate myself to consistently workout but I CAN do 12 minutes! I love that I can do it anywhere. I was on a trip last week and still managed to do my workouts at the hotel! Every day I tell my husband how thankful I am that I found you girls!"
Tara Wiens
..... 

"I don't use Facebook so I don't get a chance to let you know about my workouts with HIITit. I am 61 and working my butt off with you girls. I used to bodybuild and have trained alone for pretty much 43 years. This is a first for me that I am doing a workout that someone else has provided. It says a lot about the quality of your workouts and how effective they are if one eats well and is consistent. Sometimes if I have a few HIITits piled up because I missed a day or two I will do the two or three in a row to really amp things up. I always do some form of cardio as well either before or after to supplement the HIITs. As the years have gone by I have been fortunate to find some other ways to stay motivated, no pressure on you gals, but you are IT now!!!! Thanks for keeping it real for me."
Carol Wright
..... 

"This is my first month with your hiitit program and it is amazing!! I love the convenience of it and have already noticed a difference with my strength. I love that it's only 12 minutes that I can easily fit into my day but still get a good burn!"
Katie illichmann
..... 
HIITit Kelowna has changed my life and the way that I look at exercising! My biggest struggle was always finding the time and at 12 minutes a workout you cannot go wrong! I wake up looking forward to working out everyday! I love the variety of the workouts and the fact that you can make them as hard or as easy as you want to. I have never in my life felt as strong or as confident in myself as I do now! Thank-you Chelsea & Mel for everything you do and hope that I can continue to workout with you for many challenges to come!"
Melissa Gerl
..... 
"I'm on Day 2 of the third month with HIITit.ca and am loving the results!!! As a busy mom of three even I can find 12 minutes most days to work out. I'm feeling stronger than ever (I can do real push ups again!!), and I have more energy. The most motivating part for me is seeing the workout in my inbox everyday knowing that I have to find 12 minutes to get rid of at least one of the "unread" emails in my personal inbox. Well that and the high five I get from my three year old after I'm done!"
Janine Kefford
..... 

"I've been doing HIITit High Intensity 12 Minute Workouts every day since the beginning of last month. In one month I feel amazing, I feel strong, and every day I can do a little bit more. [When I started] I could not do one single push up. At the end of the month I could do 10. [Chelsea and Mel are] a great couple of ladies that coach and they have a great group of people for support, encouragement and keeping me accountable. It's the first time in my whole life that I'm excited to work out every day."
Angela Walter
"I absolutely love incorporating HIITit into my lifestyle and love the fact that in only 12 minutes a day I'm working up a good sweat, building lean muscle and firing up my metabolism for 24 hours! I've been a member with HIITit for a year now and since my first workout, I've been inspired to regain my healthy lifestyle that was lost in 7 moves, 2 provinces, and 2 babies. So this month I threw out all excuses, HIITit hard, ate clean and got results that I am proud of! Thanks HIITit for being such a great encouragement and support for me in my journey! Can't wait for the next 30 days!"
Meliss Weiss
..... 

"I have never ever enjoyed working out. I hate going to the gym, classes don't do it for me, and I buy DVDs and equipment with the promise of doing it ALL THE TIME and I wimp out after a month. These exercises have motivated me to become and STAY active! I hate missing a day, and I have become that person who feels incomplete if I don't get my workout in. Thank you so much for inspiring me to get fit and become a person who enjoys exercising and seeing the change in my body. I can't believe how much I love being active! Thank you!!"
Kate Duggleby Simard
..... 
"I just want to thank you for your amazing workouts! I love them and I feel an addiction coming on! I have noticed so many changes in my body with the few months I've done your program and have noticed so many other positives .... mood, sleep, etc.. I have two kids (6 and 4) and finding time to workout was always a challenge, not to mention, boring. With your workouts I have my kids playing beside me and I'm always looking forward to the next exercise. Thanks for all you do ladies. You are truly my inspiration."
Jenny Beaulieu
..... 
Julie Shermento
.....
"I'm so excited to be apart of HIITtit Kelowna. I did the July 30 day challenge. I can't believe how 12 mins a day changed my body. I'm stronger, toned and feel great. I've always worked out but after baby no.3 I needed something different. Loved getting the emails daily and looked forward to new moves to get my sweat on. Thank you!!!"
Bretta Turner
..... 

"I just have to say how much I am LOVING this program! I force myself to find 12 minutes out of every day to get this done, and at the end of it, I feel fantastic. I feel my body whipping into shape and I couldn't be a bigger fan. Thanks so much for putting together such a great system. I will be a returning customer for sure."
Tanya Schmidt
..... 

"Feeling great! I've lost 9 pounds since working out with you ladies since last month, and I'm halfway to my goal weight!!"
Kerstin Slater
..... 

"I've been doing your HIITit.ca workouts for a year now and I just LOVE them. I've got three kids (6, 3, & 2) and these short intense workouts get me through my day. I love to do them when my baby is napping. I used to need a coffee in the afternoon to pick up my energy but I find doing your workouts gives me a better boost and bonus it doesn't mess up my nighttime sleep. You're workouts have always been something I do for me. It's my time to take care of myself. This was something I have been putting on the back burner since becoming a mother and it has snowballed into me taking better of myself in other areas of my life too. For just one example getting around to eating more nutritious foods which has lead to my family also getting into that. I'm originally from the interior and now live in Tsawwassen so I love to see the scenery where you guys are too. I love how I don't have to think about what to do for exercise. I just click on the video and do it and know when I'm finished I'll feel the endorphins and get a good sweat on. I love the Pelvic Floor workout and do it most days after the HIITit one. I love the inspirational quotes you have at the end of the workout. I'm not sure if anyone else does this but sometimes I look at the number of views on YouTube after I do it and am encouraged to see how many people have already done their workout for the day. I love how sometimes I think I won't be able to do an exercise but then I try it and can. Lately that has been the leprechaun feet one. Also when I started doing the workouts I couldn't do the regular push-ups but now I can power through them. It amazes me how much stronger I am with just doing these 12 minutes a day. I love the calendar you have made and love to check it off every day. I love how I can run up the stairs now and keep up with my kids and be a good example for them to be strong and heathy. My Mom has since joined your program with the LIIT workouts. She has had a bad back due to a weak core and she feels stronger every day and is my WAP. My husband often comments on how toned my body feels and will do the workouts with me on the weekend :-) Thanks for taking care of me in this area of my life and being so encouraging everyday!!!! As you can tell I could go on and on. Thanks for making working out so much fun!!!"
Heather Van Eeden
.....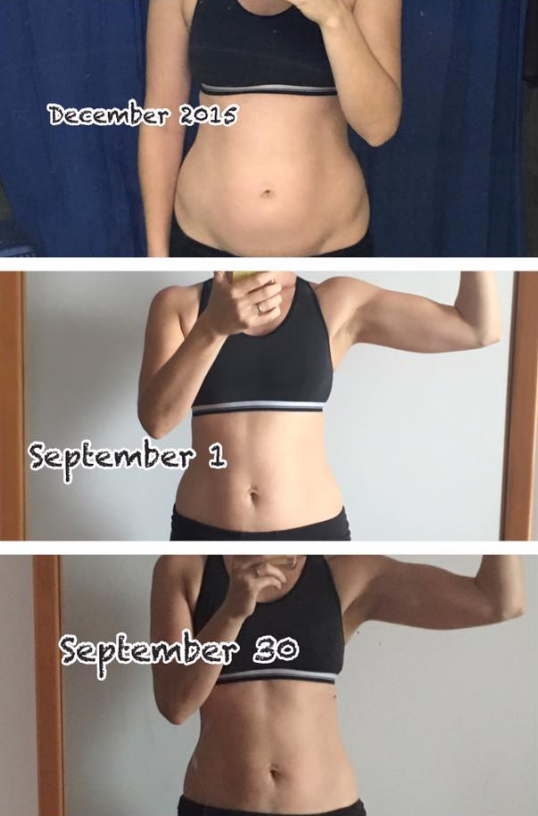 ..... 
"HIITit.ca has changed the way I see my workouts. It's exciting, challenging, effective and quick! I'm more motivated now to get out there and exercise everyday. Come as you are, but I guarantee you leave a changed person inside and out!"
Kinsley Hettinga
..... 
"Being a super busy mother of two busy boys HIIT IT Kelowna was a perfect fit for me! I love to exercise but find it a huge challenge to fit the workouts in even though they are a priority in my life. The first HIIT IT workout I did I was SO sore the next day that I knew I was hooked and I also knew they would work! It truly is 12 minutes well spent by getting the most optimal intense workout in that time. I felt like I saw results instantly and felt so much stronger right away. After having two C sections my core needed some work and now I feel stronger than I ever have! Chelsea and Mel are such awesome instructors and are so encouraging and motivating you almost feel like they are right there with you in your own living room doing the workout too!
..... 

"HIITit is a 'no brainer' for busy people who want to maximize their time and get results. Bonus is that HIITit.ca is FUN, never boring, and works on every part of your body. I recommend this to all my patients!". It is possible and these workouts make it possible for busy moms like myself to achieve realistic fitness goals. I love this program and what it represents for everyday women struggling to have balance."
Dr. Jody Cox
..... 

Everyone can do these 12 minute workouts ( even with kids by your side) and everyone will see results! If you are a busy mom who wants to keep fit HIIT IT is most definitely for you!!!"
Carrie Mcgillivray
..... 
"I love that these workouts are as challenging as you want to make them. They're dynamic and always changing. I've been doing them for 3 months and I feel stronger after every workout."
Tanis Michaud
.....
"These workouts have been amazing for me. I am a mother of three and enjoy the convenience and effectiveness that these workouts offer. I usually struggle with poor posture headaches, having to make endless chiropractor and massage appointments. Since doing these workouts I have not had a single headache!! I also love these workouts because they work every muscle in my body without me having to think about it!!"
Shannon Vidal
.....
"I am seeing results. Less cellulite, smaller thigh circumference...all awesome! And, I'm loving the 12 minutes...I literally do not have an excuse not to workout and I feel good that I did something for the day! It is the only thing that I have stuck to doing (and I have a treadmill...)!" 
Kailey Sanchez
.....
"I have to say that these workouts have been totally life changing for me! I look forward to the workout everyday and I feel so good about myself now! I hope you continue to do them in the future because I would sign up every month! Who knew 12 minutes a day could change my life!"
Nikki Webber
..... 

"Well I did it! Superwoman challenge complete! What a great month! Thanks Chelsea and Mel!! I signed up initially end September because I just needed help getting back into a fitness routine. My baby was 5 months old and I had the 2 older girls home with me too, so free time was lacking. Long distance running was out and I was struggling to plan workouts ahead of time so nothing was getting done. I started with HIITit.ca and really enjoyed it. I initially had only planned on doing it to get over the initial hurdle, but ended up loving it so much I signed up for the year in December. I haven't been great at getting all the workouts done until this challenge. In just a month, I've noticed a huge difference! I have more energy, my mood is more stable, my core is more toned and, you can do anything for 12 minutes! I've been sick the past 2 weeks and I've still been able to get all the workouts in by modifying the intensity if needed. I'm so excited to be part of this group and I've been telling anyone who will listen what a great program it is! I started running again after Christmas and was so surprised that my speed hasn't suffered despite the fact I haven't run in almost 2 years. I'm definitely going to stick with this program and start adding running to the mix as well. These HIITit workouts are amazing done alone, but I think would also complement other exercise really well. Great job ladies! Getting my body back after 3 kids gives me hope and confidence that other areas of my life will return to "normal" again one day too (like my brain! haha! baby brain goes away eventually, right?!)."
Jessica McRobbie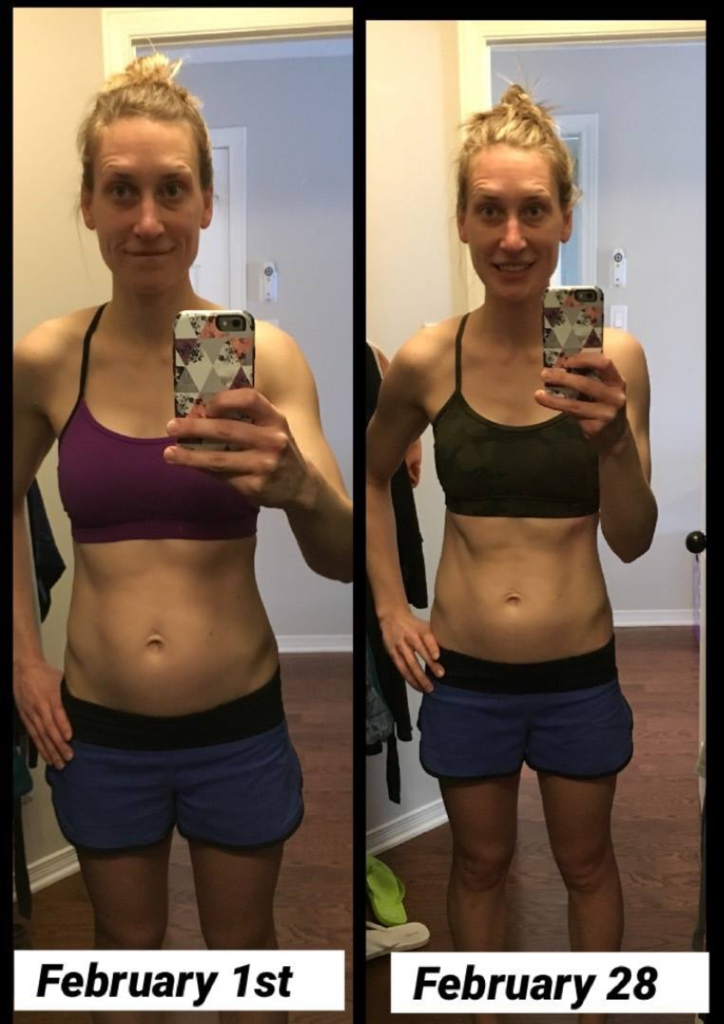 ..... 

"I just wanted to express my gratitude for this change. HIITit.ca and recently working with your nutritionist, Pam Redpath, has got me here. Still work to do but some amazing changes!!!"
Kirsten Olson
.....
"Hello Everyone! Thank you so much for taking the time to learn more about the HIITit.ca program, and especially to hear about how this program has changed so many people's lives!! This is the good stuff!! I can identify with pretty much every one of the testimonies on this page, agreeing 100% that this program has changed so much in my life for the better. Self body image, confidence, positivity, energy and my overall outlook on health and fitness to name a few! I have two children, and prior to HIITit, was constantly back and forth and all over the place with what to do to stay in shape. I have an innate interest in fitness, and a background in Coaching & Personal Training, but even so was completely all over the board with what I did for daily activity. An hour here of a group fitness class, 20 minutes there of a rollerblade, a home video now and then, half hour on the elliptical, a quick hike, a running club, a visit to the gym 20 minutes away, & all while having a baby at my side (if you're a mom, you'll understand the stress without even one more word!). I found the inconsistency exhausting but also craved having a fitness routine that was diverse so I wouldn't get bored. All for a descent price!? It's not easy right?! After having my daughter Madison in the summer of 2013, I was determined to get back in to shape. My plan, to be totally honest, was to just try again to do all of the things listed above that were completely tiring me out, and leaving me feeling just okay, & never really bringing any major changes to my body shape or muscular tone. In January of 2014, my best friend and now business partner, introduced me to a fitness program that would change everything. Together she coached me on daily 12 minute High Intensity Workouts with my commitment to do them together with her for 30 Days. At first I remember not being able to do a full sit up or push-up, and also feeling like my wrists were on fire holding my body weight up in the various exercises. Fun right!! Not so much. But slowly, week by week I could feel and even begin to see changes in my body. I felt stronger, and could see tone developing in my muscles that I had never seen before. The feeling of feeling energized from a workout was incredible, and also unbelievable to me that this could all be done from home, without being bored, and in 12 minutes!!! Day after day I went on to continue with doing a daily 12 minute workout- truly it becoming a part of the day I would always look forward to & would sacrifice practically anything to get in. In the mix of turning this passion in to a business, and many other monumental occasions in 2014 & 2015, HIIT workouts remain by far one of the best things I could have ever taken on. They have changed me and filtrated in to every aspect of my life making me a stronger, more well-rounded, & a healthier individual. If you are like me, are looking for consistency, a challenge, want something that is quick, want results, & are not afraid to feel the burn, you HAVE to try out this program. It is beyond believable what it can do for your life. It's a huge blessing to be a part of something that is changing lives for the better, and if you are at all wanting to know more, please don't hesitate for a second to be in touch. It would be both Chelsea or my pleasure to talk more!! Our commitment is to be here for you at the beginning, and each step of the way in this journey as we all take on daily fitness together. My best!! 
Mel Breitkreutz- HIITit.ca
.....
"Soooo here it is!!!! This is my post baby body picture taken 2 months after my son Leo was born. I was terrified to take this picture, I felt as thought I would NEVER get back to my pre-baby body! The day I took this picture was the day I starting completing my very own 12 minute HIIT it workouts!!! I was determined and focused to get back to "ME". Not only transforming my body but transforming my mood and my self confidence! I literally worked out for only 12 minutes a day with no equipment and transformed my body!!! It's not perfect but I am so proud to be feeling strong, confident and happy!! For all of you out there who are terrified to take this journey, I warmly encourage you to give it a shot. With having 2 kids, a full time job and managing a household I know that this is a program that I will absolutely stick with for the rest of my life, this 12 minutes a day sets everyday up for success for me!" Chelsea Harrison- HIITit.ca
..... 

Results may vary from person to person.*