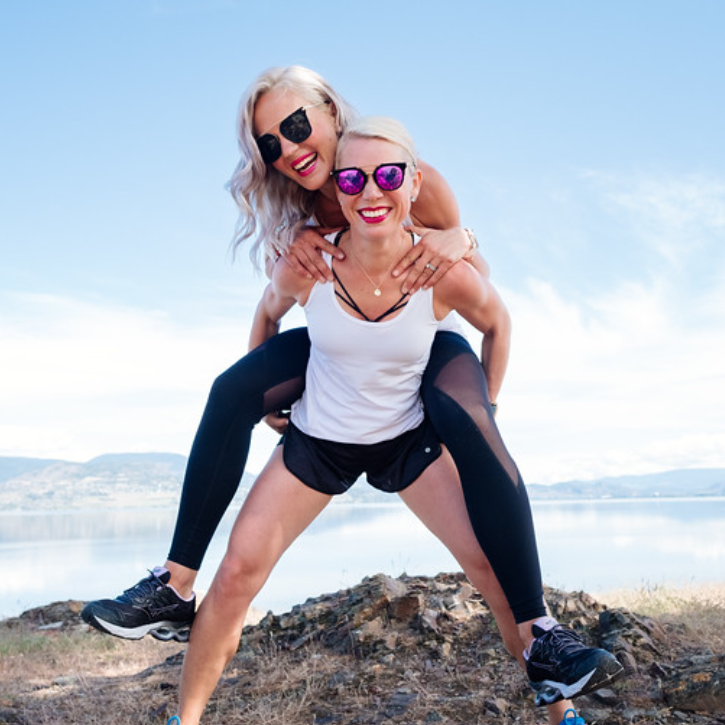 We are Chelsea and Mel of HIITit.ca! Two busy, working moms, each with 2 small children. Chelsea is a Registered Nurse in the Cardiac ICU, and Mel has a background in Personal Training and entrepreneurship, with HIITit.ca being her third start-up business. We have always been committed to being healthy and fit, but in more recent years have found it such a challenge to be active and working out on a daily basis. Trying gyms, home gyms, childcare, running, cycling with kids, you name it to get a good daily workout in. We both turned to HIIT exercise because it was quick, required no equipment and could be done from anywhere (High Intensity Interval Training).
After both of us got on our way with a daily HIIT workout, we realized that this was our answer to getting an awesome, kick-butt, FUN, & QUICK workout in on a daily basis in the midst of busy lives, that actually would bring results!!
Both feeling & seeing changes, along with having so much fun with the HIIT style of working out, we knew that we could not keep this amazing way of working out to ourselves! We could think of so many friends & family off the top of our heads who would benefit & love this style of working out and we wanted to share our new love. Together we came up with the idea of recording & creating a subscription program for our daily workouts, making our 12 minute HIIT workouts available to women all around the world via a daily email. Jumping through a boat-load of hoops, establishing our business HIITit.ca, enrolling with Canadian Fitness Education Services, registering with the BCRPA, completing the Canadian Weight Training Certification and CFES Personal Training Certification, the rest is history. Receiving daily emails of lives that are being changed with just 12 minutes a day, we could absolutely not be happier with our decision to start this business. If you are new to HIITit.ca, we warmly invite you to step in to possibly one of the best decisions of your life. It has absolutely been for us and hundreds of others now working out daily with HIITit.ca. No more excuses!! We want you in on the excitement of getting in to the best shape of your life.
Our very best to you in health & fitness! We are in this together! Chelsea & Mel

CLICK HERE TO BE INSPIRED BY AMAZING LIFE CHANGING STORIES FROM HIITit.ca PARTICIPANTS!
Just $25 per month to receive Daily HIIT Workout Videos to your email inbox! Easy to follow, no equipment needed, and new every single day! Join today!